Reverend Thomas M. Frost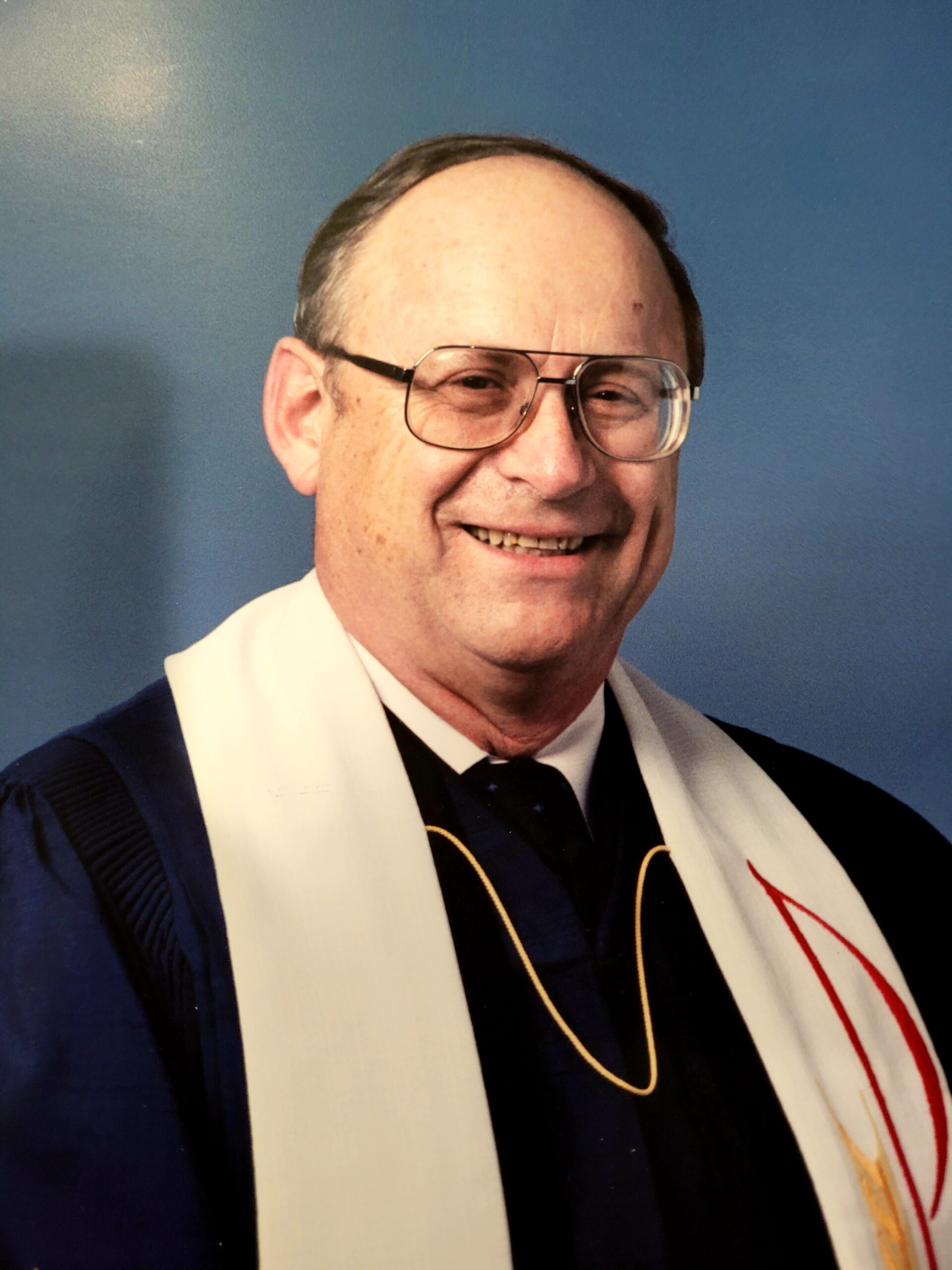 Reverend Thomas M. Frost
January 6, 1937 – July 10, 2021
Reverend Thomas M. Frost passed quietly on July 10, 2021 to be with his heavenly father. Born January 6, 1937 to Rev. J. Thomas Frost and Margaret Meredith Frost in Elwood, Indiana. Rev. Frost married Mary Ellen Cortner Frost on August 23, 1959. Rev. Frost is survived by his wife, Mary Ellen, brother and sister-in-law Jerry and Susan Frost, son and daughter-in-law, Bart and Lisa Frost, daughter and son-in-law Misty and Denton Wilson Jr., grandchildren Brad and Ellen Frost, Mariel and David Nemargut, Austin and Hannah Wilson, and great grandchildren, Parker Frost, Logan Nemargut, Ledger Wilson. Rev. Frost was preceded in death by his parents, sons, Bradford Thomas Frost, Bryan David Frost and great granddaughter Delta Anne Wilson.
Rev. Frost served in the United Methodist Church over 45 years having pastored churches in Wrightwood, San Gabriel, and Oak View California and North Liberty, Osceola, LaPorte, Wabash, Fort Wayne and Decatur Indiana. Rev. Frost has a passion for mission work creating Mission Marketing where he provided an avenue for craftspeople around the world by connecting those artisans with churches throughout the United States. His purpose was to shine a light on the importance and value of missions and showing how Christ was an integral part of each of their lives. Tom and wife, Mary Ellen, started their journey of supporting missionary endeavors by taking 30 high school students to Bisti , New Mexico. This was followed by lifetime of mission service including Henderson Settlement Franks County, Kentucky. Tom and Mary Ellen's primary mission and most enduring church relationship was with St. John's Anglican Church in Black River Jamaica. They worked with churches in Westmorland, Manchester and Portland Parishes in Jamaica. This service lasted for over 35 years taking countless groups to build, to aid and show the love of Christ. Rev.. Frost also helped support the creation of Genesis Steel Drum Band, which then had the opportunity to tour churches in Indiana
In addition, Rev. Frost served his church and community in many roles over the years: pastor, leader teacher, facilitator, and worked with individual churches through special appointments as a conflict resolution pastor. Tom served his community on many boards and was active in both the Lions Club and as a Rotarian. Rev. Frost also, served the Northern Indiana Conference as Chairman of the Epworth Foundation and Chairman of the Board of Ordained Ministry.
He was an avid golfer, skier, fisherman, and bridge player. Rev. Frost sang with great passion in many choirs, most recently with the Covenant Presbyterian Church in Fort Myers, Florida.
In his lifetime he was able to see the Chicago Bears and Chicago Cubs both win world championships, which he never hesitated to share with friends.
Memorial Service arrangement in Florida and Indiana are still in the planning stages for later in the year.
In lieu of flowers the family requests donations be made to either Mission Piniel in Immokalee, Florida, St. John's Anglican Church Black River Jamaica, or Cultivate Abundance through Covenant Presbyterian Church, Fort Myers Florida.
Condolence